Amenities
STEPS FROM INSPIRATION, HOME TO IT ALL
home to more
Find inspiration, exhilaration and rejuvenation, all in one place. Frontier's many amenities make staying home as enjoyable as going out. Celebrate in style in the elegant Party Room, complete with a catering kitchen that lets you make it an occasion your guests will truly savour. Connect, brainstorm and bring some new thinking to the table in the Collaboration Room. Step outside to enjoy the scene and the conversation on the Outdoor Terrace and Lounge. Push your limits and find your centre in a state-of-the-art Fitness Centre and Yoga Studio.
At Frontier, you'll find all you need, just steps from your door.
Contact Us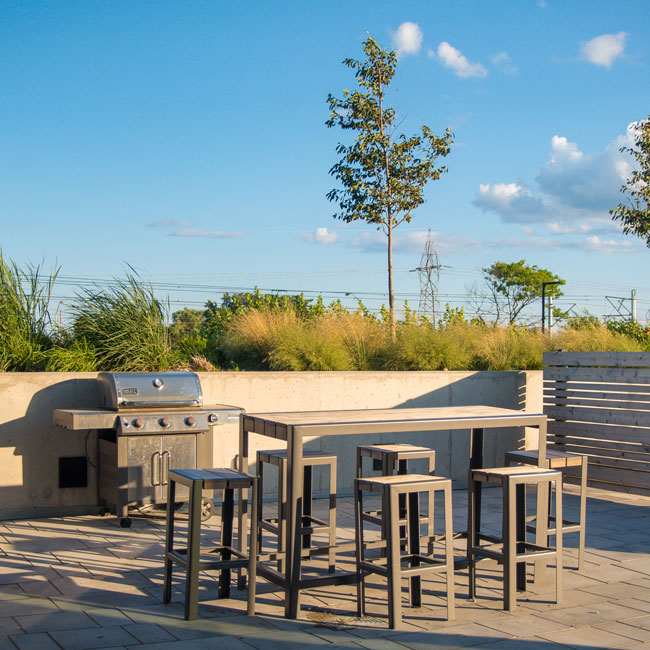 Our Amenities
TV Lounge
TV Lounge
Hold your own film screening or catch up on your favourite show in the Frontier TV Lounge.
Outdoor Terrace
Outdoor Terrace
Take it outside, take a seat and savour the scene from one of the elegant chaise lounges on the Frontier Outdoor Terrace.
Outdoor Lounge
Outdoor Lounge
Get some fresh air and get comfortable at the Frontier Outdoor Lounge, complete with cozy outdoor sectionals.
Fitness Centre
Fitness Centre
Get your heartrate up and your reps in at the state-of-the-art Frontier Fitness Centre, featuring the latest equipment.
Lobby Lounge
Lobby Lounge
Frontier's contemporary Lobby Lounge is a place to connect, and a welcome sight to come home to.
Party Room
Party Room
Make the most of a night in and celebrate a special occasion in the Frontier Party Room, complete with a catering kitchen.
Yoga Studio
Yoga Studio
Breathe, balance, stretch and embrace the moment. Find your calm and your centre in the Frontier Yoga Studio.
Collaboration Room
Collaboration Room
The next big idea starts here. Connect, converse and create in the Frontier Collaboration Room.
Parcel Pending Management System
Parcel Pending Management System
Frontier's Parcel Pending Management System makes online shopping easy. You don't have to be home to wait for your package.